Women in Data Science Puget Sound 2021 Conference
April 27 @ 8:30 am

-

5:15 pm
Annual Women in Data Science Puget Sound Conference, a multi-track, technical conference celebrating the work of female data professionals.
Register through Link below
(not through Eventbrite)
Registration is now OPEN! Register at https://www.accelevents.com/e/WiDSPS2021
Two FREE Ticket Types to Choose From:
General Admission
26 live talks with Q&A
Group and 1:1 networking opportunities
Sponsor booths and resume bank
50+ raffle prizes supporting local small businesses!
General Admission + Networking Cohorts (limited quantity)
Everything in General Admission PLUS
Curated small-group networking opportunity via our Cohorts program
Visit the Know Before You Go page to learn more about tickets, registration, and conference details.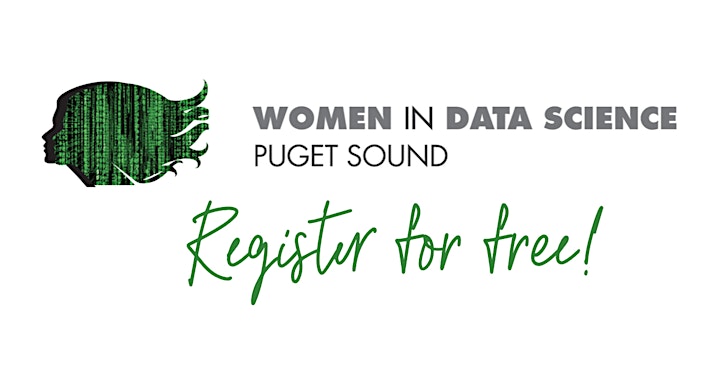 About the Conference
The Women in Data Science (WiDS) Puget Sound Conference highlights the scope of data-related work in our region, with an emphasis on the important role of women in data-related fields. This local event aims to bring together data professionals across the Puget Sound area and provide an opportunity to learn about data science applications and research in our community. ALL genders are invited to participate! Due to the ongoing COVID-19 situation, we are once again using an online platform that will still allow for a fantastic networking and learning event. For more details about the conference, visit https://www.widspugetsound.org/
Sponsors
Thanks to our sponsors for their unwavering commitment to the inspiration, education, and support of Women in Data Science. Share your resume with our sponsors during registration and interact with them in our Sponsor Expo during the conference.
WiDS Initiative
The WiDS initiative aims to inspire and educate data scientists worldwide, regardless of gender, and to support women in the field. ​WiDS started as a conference at Stanford in November 2015. Now, WiDS includes a global conference, with approximately 150+ regional events worldwide; a datathon, encouraging participants to hone their skills using a social impact challenge; and a podcast, featuring leaders in the field talking about their work, their journeys, and lessons learned. ​(https://www.widsconference.org/)
Data Circles
This conference is planned in partnership with Data Circles, an organization that exists to provide a place for women in data science to connect, build community, support each other, and grow.
Make sure to follow Data Circles on LinkedIn/Instagram/Twitter/Facebook for conference updates and to learn about Data Circles events throughout the year!

Disclaimers: WiDS Puget Sound (WiDSPS) reserves the right to use any photograph/video taken at any event sponsored by WiDSPS, without the expressed written permission of those included within the photograph/video. WiDSPS may use the photograph/video in publications or other media material produced, used or contracted by WiDSPS including but not limited to: twitter, facebook, instagram, invitations, books, newspapers, magazines, television, websites, etc.